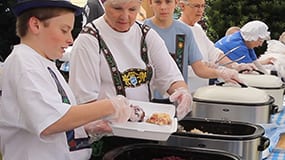 The Island Oktoberfest German Dinner consist of Knackwurst and Bratwurst Sausages, sweet red German cabbage, German hot potato salad, and sauerkraut. A great baked roll and butter top off the meal.
Festival goers may select a complete Wurst dinner, a dinner of sides only, or ala cart dishes as they choose. The side dishes are all made from congregation members' recipes handed down from generation to generation.
The recipes have been in the congregation for years and are the standard by which much German food in the area is judged. The ever popular sweet booths, apple cake, and strudel stands provide plenty of tempting opportunities to enhance one's German Wurst dinner with a great homemade dessert. Deserts and strudels are ala carte.
The Kitchen is managed by a crew led by Debbie and Tim Healy, with able assistance from Michael Geml.  The recipes handed down through the ages are shared with Master Caterer Benno to provide the Wurst Abendessen. During the event itself, a crew steadily refills the serving line to assure all food is served at temperature and meets the church's standard for exceptional quality. Over 2500 pounds of sausage, four cases of red cabbage, 40 gallons of sauerkraut, and over 500 pounds of potatoes are the starting points for these culinary creations. Joined by a dozen servers, the event produces over 1,200 dinners. Any food remaining is donated to a local charity. The servers are chaired by Vera Danner and Debbie Healy.
Island Oktoberfest is hosted by First Lutheran Church and co-sponsored by Del Papa Distributing Company. The two day festival takes place on the church grounds and streets adjacent to 24th and Winnie in historic downtown Galveston.
Cost is $15 for the complete dinner and $4 for sides. German dinner is available Friday night from 5:00 pm till they run out and Saturday from 11:00 am till they are gone! And yes, we usually sell them all!
Last Updated 11-1-2015