Island Oktoberfest arts and crafts are inside the Lyceum building at First Lutheran Church of Galveston.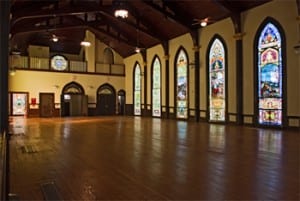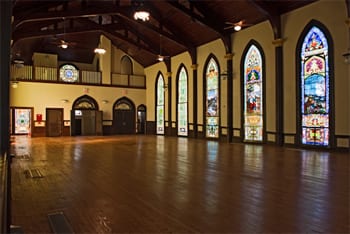 The Lyceum of Galveston Island is an elegant, mid 19th century Victorian-style chapel and meeting hall. With a total renovation, restoration, and remodeling completed in summer of 2009, The Lyceum now takes its place as the Island's new premier venue for weddings, receptions, meetings, and events.
Long recognized as a "center of culture" in Galveston, the Lyceum Hall located at the corner of 24th and Winnie Street, was the original site for one of Texas' oldest German Lutheran Churches First Evangelical Lutheran Church. The church was founded in the fall of 1850 by two Lutheran pastors that were sent to Galveston as a result of early colonists who wrote to their Swiss seminary of Saint Christchona and complained of a lack of spiritual leadership on the Island. The Lyceum still sits on the original church grounds and is adjacent to the present sanctuary separated only by a beautifully-landscaped wrought iron-gated courtyard.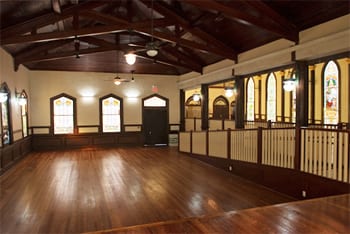 During the Island Oktoberfest, the Lyceum is the location for many of the arts & crafts and booths.
For more information on the Lyceum and to inquire upon availability for your event, please visit: lyceumgalveston.com
Island Oktoberfest Inside The Lyceum
Island Oktoberfest features Handcrafted Arts & Crafts in the Lyceum building which provides indoor shopping for a wide vairiety of booths, including:
1.  Yummie Nuts
2.  Classy, Country & Chic
3.  Star Drug Store
4.  The Kitchen Chick
5.  This, That & Whatever
6.  O'Hurley's Keepsakes
7.  Jerry Graham's Metal Sculptures
8.  Sicilian Marinated Olives
9.  Hedi's
10. Ooh La La Candles
11.  B&P Enterprise
12. You Never Know
13. Jewelry By: Earline H. Raia
14. Inca Wasi Arts & Crafts
15. Strand Brass/Christmas on the Strand
16. UMOJA Church
17. Sports Funatics