The Island Oktoberfest
34th Annual Edition of
Galveston's Oktoberfest!
October 23 & 24, 2015
Friday 5:00 – 11:00 pm
Saturday 11:00 am -11:00 pm
Island Oktoberfest is hosted by First Lutheran Church and co-sponsored by Del Papa Distributing Company. Celebrated each Year on the 4th Saturday of October, this two day family fun festival takes place on the church grounds and streets adjacent to 24th and Winnie in historic downtown Galveston.
Watch this YouTube video of the 2014
celebration and see the fun you missed!
Also, check out this 2013 video of George Black discussing the history behind the Galveston Oktoberfest celebration and the events associated with the 2013 event!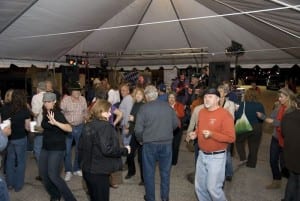 Galveston's Island Oktoberfest was first celebrated in 1981 by members of First Lutheran Church who traced their roots back to German immigrants of the mid 1800s. What started simply as a "fall activity for the congregation and their friends and neighbors in the courtyard in front of the Parish Hall" has grown and expanded into what is now Galveston Island's premier fall event attracting over 15,000 "friends and neighbors" for this fun two day event.
The Island Oktoberfest features:
You don't want to miss this yearly event!
In addition to the traditional Sausage Dinner, homemade cakes and sweets, festival goers can also look forward to Helmut's Strudel and Donald Gangl's Apple Cake!
Galveston Island Oktoberfest Bier-Menu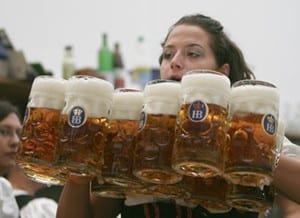 It's not Oktoberfest without truly typical German Biers. We are going to once again feature themed Bier Garten environs. New this year is going to be a celebration of Texas Craft Biers made in the European tradition. Along with Paulaner and Becks themed booths, we are adding a booth featuring those great Texas Brews. Paulaner, and Beck's, in ice cold fresh kegs all direct from Germany, and the balance made in small batches from our growing Bier Brewing industry in Texas.

In addition, we will have, once again, the popular Pumpkin Spice Ale, now Shock Top Pumpkin Wheat. Get there early, because this one usually sells out by 2 pm on Saturday! We are limited by the brewery on what we can have delivered, so each year we push and increase our inventory, but each year we sell completely out.
Of course, we will have the ever popular ZiegenBock and Bud Light, too, 'cause some folks just like their American brews.


Wine, Too, At Galveston Oktoberfest!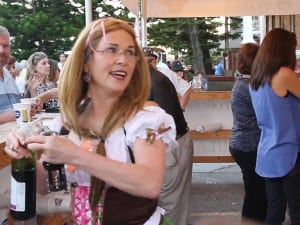 We'll also have a great listing of German style sweet wines from the famous Haak Winery, along with American favorites, too.
October is Breast Cancer Awareness month, and a portion of the proceeds of the sales of every bottle of Pink Pelican will be donated to Breast Cancer research.