Music and Dance Entertainment
At The Island Oktoberfest!
Here are our 2021 entertainers!
The TubaMeisters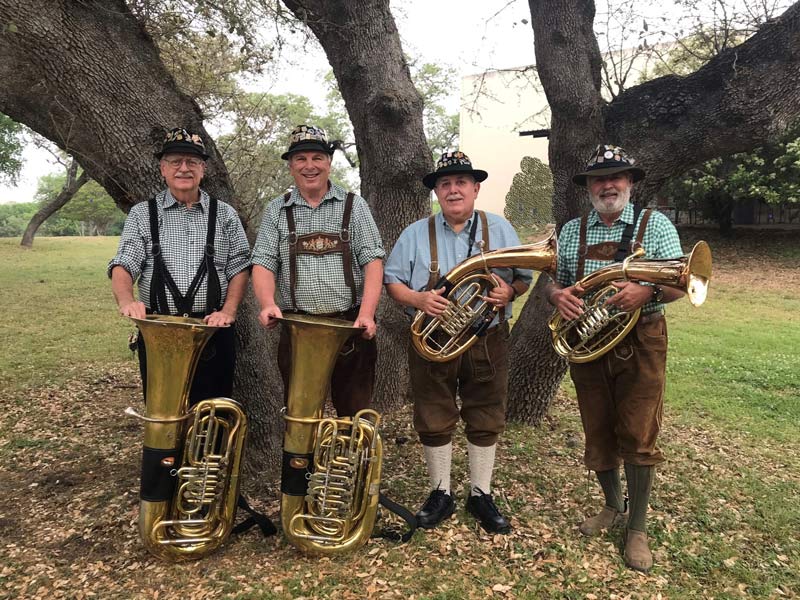 No instrument is more identified with German and Czech music than the Tuba. The TubaMeisters, a Tuba/Euphonium quartet, go far beyond the oompah tradition, by presenting a rich and varied entertainment.
All the old standards are here, with other music you'll enjoy. There's also Austrian, Czech, Slovenian, Spanish, and Mexican, and even a few Country-Western and Rock tunes, as well, with vocals in five languages.
In 2021, they will perform on the Main Stage on Friday from 5-7pm. They will also perform on the Main Stage on Saturday from 3-6:30pm. And on Sunday morning from 10-11am they will lead the Polka Worship Service inside the First Lutheran Church Sanctuary.
Mid life Crisis Band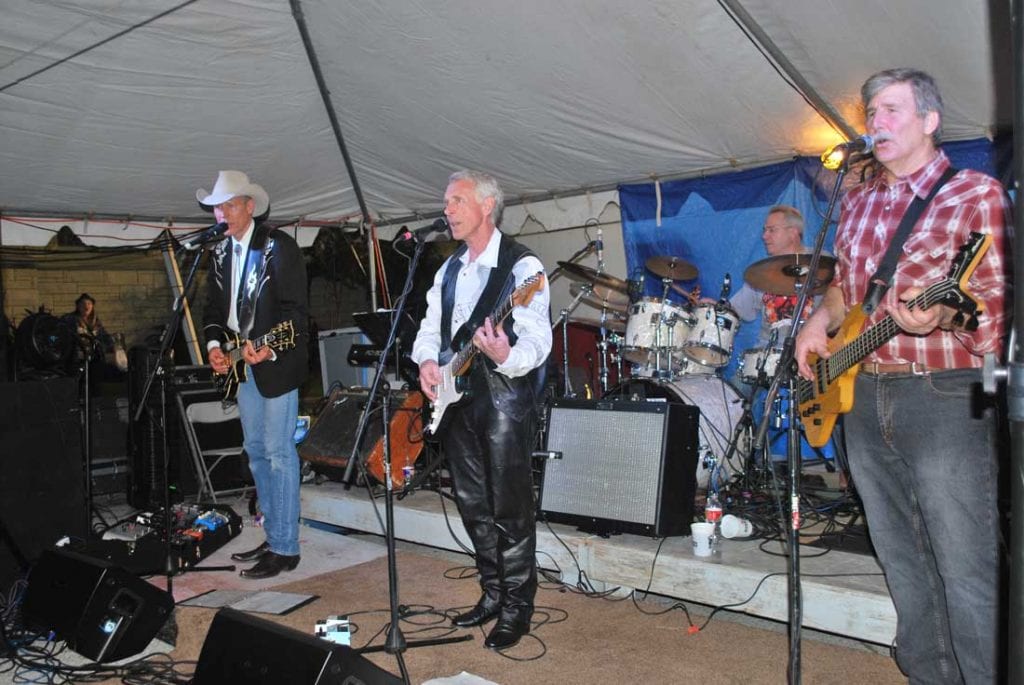 Featuring local professionals, "Mid Life Crisis" will play to a loyal local following and a growing new fan base. For over fifteen years now, this band of local doctors, attorneys and professionals has been entertaining on Galveston's Strand and at Galas and Charitable events.
A tremendous hit and crowd favorite since 2011, the band returns this year to Oktoberfest! Midlife Crisis specializes in music from the 50's, 60's and 70's, adding new hits in current favorites.
The Mid Life Crisis Band will thrill the crowds on Friday from 7-10pm on the Main Stage.
The Lineup Band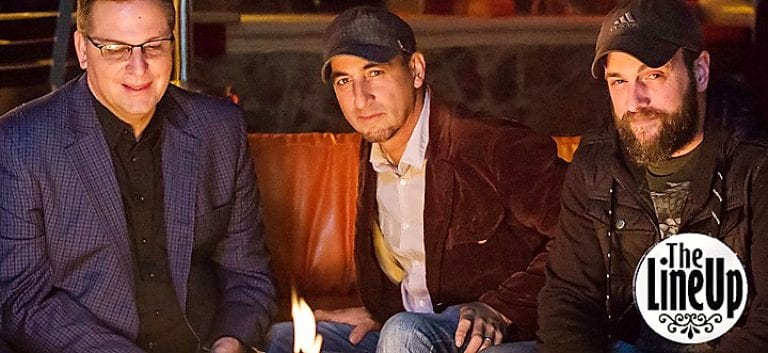 With each band member's unique background and talent – Willy Gonzalez founder, playing drums, Stacy Cook,bassist Jeff Pennington, lead guitarist – The Line Up is a personified cross-section of cultures and musical genres, also evidenced in their repertoire that numbers nearly 500 songs spanning decades and genres.
The Line Up will perform on the Main Stage on Saturday from 7-10pm.
KEVIN ANTHONY and G-Town
Kevin Anthony & G-Town's music is the kind you hear when you roll down your window on a warm day. It's the music coming out of your dad's old cassette player, the twang and fiddle pouring out an open door of a honky-tonk airing out in the afternoon, the polka and bass thump from a backyard barbecue. It's the sound you hear when you open the door on a dingy looking bar in a gravel parking lot and are met with dust flying on the dance floor, the clink of beer bottles and the crowd roaring along with the band. It's music sung in English, French and Spanish and it's been around longer than lines have been on the map.
Kevin Anthony and G-Town will perform both Friday and Saturday nights on the Family Stage from 6-9pm.
Website: kevin-anthony.com
Nominated for FIVE categories in the 2018 Texas Country Music awards
Winner of the Prix des hors CFMA award Cajun French Music Association
Vocals, Fiddle, Mandolin, Guitar / Kevin Anthony
Bass / Christopher Smith Gonzalez
Guitar, Vocals / Dwight Wolf
Steel Guitar/ Jim Hall
Drums / Joel Mora
Drums/ Nicole "Jelly Roll" Mendell
Jason James band
When Jason James walks onstage, he declares his love of classic country before he even sings a note. His choice of attire — embroidered suits or pearl-snap shirts and sharply creased slacks — offers a visual tribute to his musical heroes and the traditions they established. But it's not his looks or style that provide the most convincing evidence of his kinship with other giants of the genre. It's his sound: the pure, honest voice of a singer who rediscovered his soul when he reawakened his early love of well-crooned waltzes and hook-filled honky-tonkers.
Be sure and catch the Jason James Band on the Family Stage on Saturday from 2:30-5:30pm!
Website: JasonJamesBand.com
Isaak klaus and The Lederhosen Junkies
One of the area's hottest new polka bands, Isaak Klaus and the Lederhosen Junkies are up-and-coming stars. Polka fans young and old will enjoy their wide array of music ranging from traditional German, Czech, and Polish polkas and waltzes, to Russian folks songs, and Eastern European Gypsy tunes.
The Junkies bring a fresh new take to old time classics and insert their own unique spin on traditional favorite tunes. Endearing fans find their irresistible charm, coupled with their unique comedic attitude and a can-do spirit very refreshing. Polka veterans enjoy the fact that young fans are drawn to the Junkies youthful, high energy shows. This young band, along with it's diehard fans, will ensure that polka music will stick around for a long time to come.
The 2020 Big Squeeze Polka State Champion, Isaak Klaus was born with a pretzel in one hand and a sausage-on-a-stick in the other. His love for polka music began from listening to his dad's collection of polka CD's and from watching all of the awesome bands at Wurstfest.
Be sure and catch this amazing group of Lederhosen Junkies Saturday on the Main Stage from 11am-2:30pm.
The frontman for The Lederhosen Junkies, Isaak's has played at many festivals across Texas including the Tomball German Heritage Fest, the Fredericksburg Oktoberfest, the New Braunfels Christkindlmarkt, and the New Braunfels Wurstfest. His zany outlook on life, mixed with his unusual knowledge of historical facts, and his love for all things German makes him one of the most interesting men in the world. With his easy going attitude and his irresistible charm, his clean cut appearance gives the Junkies a resembalance of respectability.
A member of the Lederhosen Junkies from the beginning, Dustin's onstage antics are a crowd favorite. Although he is a beer lover, he does not hold his beer well. The Junkies have provided him with his own shot glass sized beer stein to keep him in check. With locks that would make a supermodel jealous, and a silly pun at the ready, Dustin is the hardest working Junkie at every show.
The newest Junkie on the scene, Sean's natural talent on the trumpet will blow you away!!! (literally) Not the bashful type, he won't hesitate to take the mic and sing lead. His polka background stems from his grandparents' Polish polka band from back in the day. He began playing trumpet in middle school and wound up in the world of school band. This led him to state band competitions where he helped his highschool secure the state champion title in 2018. In 2021 the Junkies called him up and he hasn't looked back since. His fun-loving nature, easy-going attitude, voice impressions, and mad trumpet skillz help complete the all-star line up of the trio.
Website: IhJunkies.com