Island Oktoberfest, hosted by First Evangelical Lutheran Church and co-sponsored by Del Papa Distributing Company, will open Friday evening with themed-Bier Garten venues featuring a variety of both German and domestic brews as well as a variety of German-style wines.
Remember: it all begins with our opening Beer Tapping Event with Die Tubameisters at 6:00 pm on Friday!
Ceremonial Tapping of the Keg
On Friday at 6:00 p.m. Galveston Oktoberfest official opens with brief introductions by the committee organizers and then FREE beer is passed out following the tapping of the keg containing imported German Bier! Music is supplied by Die Tubameisters!
Beer Tasting Event
Brian Starr, Innovation Manager of Karbach Brewing Company (headquartered in Houston, TX), will be leading a Beer Education event at Oktoberfest.  This hour-long session will begin at 1:00 pm, Saturday, October 27, on the festival grounds, and will include tastings of 4-6 Karbach beers, paired with a Bavarian pretzel (called Brezeln or Brezen in Germany).  Participants can learn the story behind the beer, as well as ask questions.
Class size is limited to 35 people.  Tickets are $35 each in advance, or $42 at the event (if tickets are available).
The Galveston Oktoberfest Wine Tasting event is set for 3pm on Saturday, October 27th on the festival grounds!
The hour-long educational event will feature 3-5 wines paired with seasonal fruit and specialty cheeses and their will be champagne and sparkling wine to be paired with a pastry and/or chocolate, etc.
It will be led by Richard Quintanilla, CSW, CSS from Favorite Brands, LLC, which is a distributor of high-quality (among many other things) small, upscale, boutique wines from around the globe.  Click here to see their portfolio!
The hour-long educational event will feature tastings of 5 wines paired with seasonal fruit and specialty cheeses.  We will start with a sparkling wine, move to chardonnay, then pino noir, merlot, and end with a cabernet.
Food
In addition to great music and dancing, there will be superb food and drink including smoked sausage, bratwurst, knockwurst, and "Wurstabendessen"- a sausage dinner comprised of German-style and Polish style Wurst with all the traditional German side dishes.
For a sweet finale, homemade Helga's strudel (freshly baked on site), will be offered in addition to a variety of tempting home-made desserts – specially prepared by congregation members from recipes handed down from generation to generation. Hand-made pretzels, freshly-popped popcorn, and a variety of soft drinks will also be sold at the festival.
Shopping in the Lyceum
The historic and beautifully-renovated circa 1860 Lyceum will again be open from 5-9pm Friday evening and from 11am-7pm on Saturday with vendors showcasing exceptional hand-crafted arts, crafts, and gift items for those festival goers eager to get a head start on holiday shopping.
Because Oktoberfest continues to be one of the vendors' most enjoyable and popular venues, regular attendees can look forward to shopping at their long-time favorite booths- each featuring Christmas and other special gift items. As well, shoppers always look forward to knowing that their favorite vendors have returned to showcase their best products.
The Cake Wheel
The ever popular Cake Wheel is a fun (and addictive!) game of chance to pick a lucky number and choose the cake of your choice to take home and enjoy!
All cakes are handmade by the congregation of First Lutheran Church!
Silent Auction
On Saturday, the silent auction will be from 11am until 5pm.
Chicken Dance Sponsored by Chic Fil A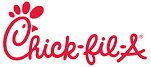 On Saturday 3:30-4 pm on the Family Stage will feature our annual Chicken Dance contest! Costumes are encouraged!
Each couple/pair is encouraged to be creative and add their own original dance moves. Each couple/pair must be on the dance floor ready to compete before the music starts.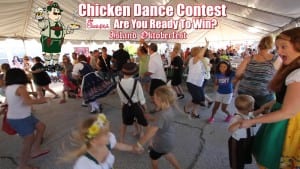 Volunteers from the crowd and event staff will select semi-finalists from each of the two categories.
The audience will judge the semifinalists. The winner from each category will be determined by the length/volume of applause from the audience.
Children's Activities – NEW!! EXPANDED KIDS' ZONE!!!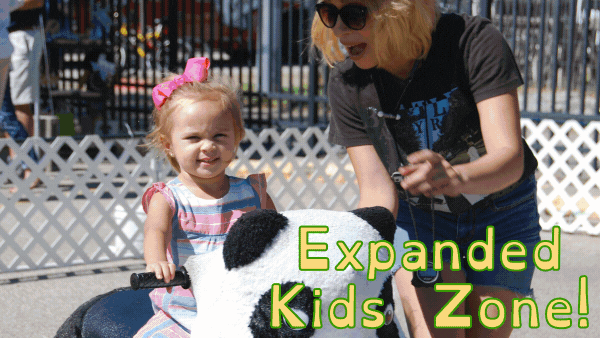 On Saturday beginning at 11:00 a.m. until 7:00pm there is a variety of fun games and activities are available in the special Children's Activities Area!
Families and children of all ages can look forward to an EXPANDED Kids' Zone at this year's Oktoberfest! Planned activities include a ROCK WALL, 4-way BUNGEE TRAMPOLINE, MECHANICAL BULL, DUAL LANE GIANT SLIDE, a large OBSTACLE COURSE, MOON WALK, PETTING ZOO and PONY RIDES!! And for little ones, a JUNGLE PLAYLAND. These planned activities are in addition to the returning activities including "motorized" animals, face painting, and other fun arts and crafts!
Don't Forget To Dress The Part!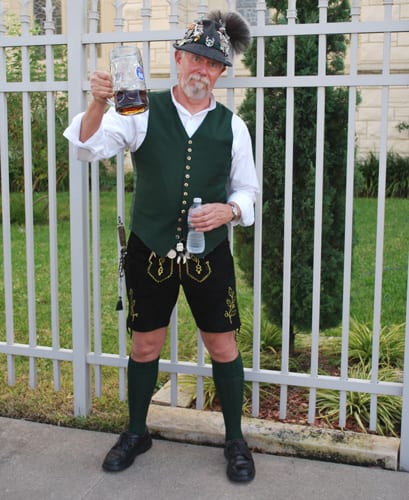 Attendees are encouraged to dress in German costume.
German Costume Contest
On Saturday, October 27, 2018 there will be a FREE German Costume Contest on the Main Music Stage from 5:30pm – 6:00pm.
Homemade Desserts to Satisfy Your Sweet Tooth
You won't want to miss the sweets booths for a treat to enjoy at the festival or maybe to take home with you. Tempting arrays of homemade cakes, pies, cookies, candies, divinity, fudge, popcorn balls, caramel apples, cupcakes, homemade jellies, and jams, and much, much more!
Three Stages of Continuous Entertainment
We have a full lineup of music and dancing on 3 stages both days! Check out our entertainment schedule!
German Bier
We have something for everyone! Please see our official Bier Menu!
Stein Holding Contest
How long can you hold your Stein? The contest is Saturday from 5-5:30 pm on the Main Music Stage!
Free Fun!
Island Oktoberfest admission is free.  Attendees are encouraged to dress in German costume. No animals will be allowed on the festival grounds. For more information, call 409.762.8477, or follow the event on Facebook at Island Oktoberfest. All proceeds benefit programs and outreach for First Lutheran Church in Galveston.
As always, thank you for drinking responsibly.