37 Years of Entertainment Galore at
The Island Oktoberfest!
Valina Polka and Das Ist Lustig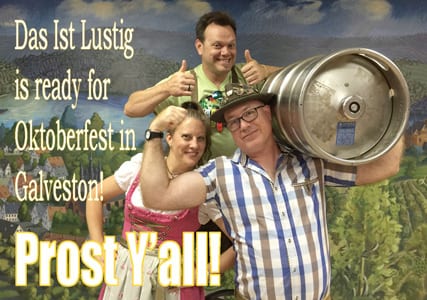 Das Ist Lustig headlines the Family Stage again this year and is a crowd favorite, especially when Valina starts her antics. Das Ist Lustig means "that's fun", and the band performs for audiences of all ages, and is a fan favorite at the Island Oktoberfest.
Das Ist Lustig offers variety that no other band does with their audiences. Make sure to ask them for the Bench Dance, or to go Cuckoo with you. They even have their own twist on the traditional Schnitzelbank. And with folk dances, the more the merrier, so join in! It's okay if you don't know how to dance – if you can walk, they'll show you how to do the dance.
Valina Polka of Das Ist Lustig will also serve as MC for the Family stage. Valina is fascinated by the multitude of talent featured at events like this. She is absolutely thrilled to be the emcee again for the Galveston Oktoberfest Family Stage.
Visit: prostyall.com
The 2018 Entertainment Lineup
is to be announced soon!
---
Listed Below Is The
2017 Entertainment Lineup
Chris Rybak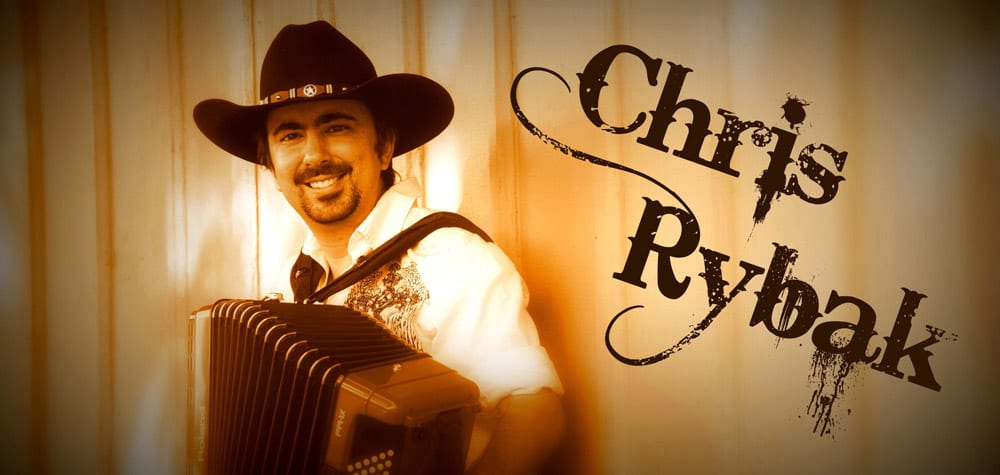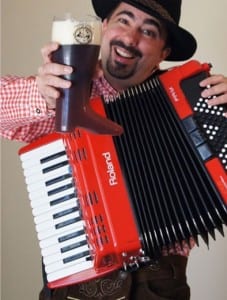 From Austin TX, Chris Rybak and his band. Like a wagon master leading a wagon train, the Accordion Cowboy, with a crack of his whip, leads you through many colorful images of the grand state of Texas, featuring the German and Czech heritages.
From Polkas to Two Steps, dance and listen to the mighty heartbeat of Texas. Lead by this master musician, let the music allow your imagination roam to images of Texas, both past and present. Dance halls, bluebonnet fields, grazing longhorns, and slow moving rivers winding through the plains. Along the way, you will be treated to honky-tonk piano, romantic waltzes, and boot stomping accordion and fiddle medleys.
"Chris Rybak demonstrates he's got the right stuff to take the accordion to the next level of Texas cross-cultural fusion." Joe Nick Patoski, Texas Monthly
Visit: chrisrybak.com
Auf Gehts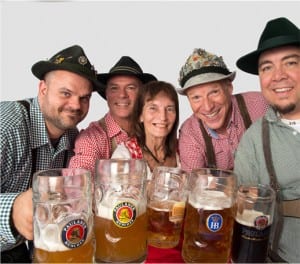 Back  this year on the Music Stage Saturday Night , Randy Adams and Auf Geht's will perform,  That means "Let's Go!", and they will bring lots of happy music and serious fun! Randy and gang specialize in the music of the Alps – Bavaria, Tirol, Rheinland, Germany, "and Brazoria County Texas" (Yee-Haw!) featuring lots of yodeling (Alpine and Western!), alpenhorn, musical handsaw, dazzling accordion and trumpet instrumentals!
They LOVE what they do!  We invite you to share some good fun and Gemutlichkeit (and maybe a beer or two!) with Auf Geht's.
Komst du Viele Spass!!  (Have lots of fun!!)
Visit: aufgehtsmusik.com
Midlife Crisis Band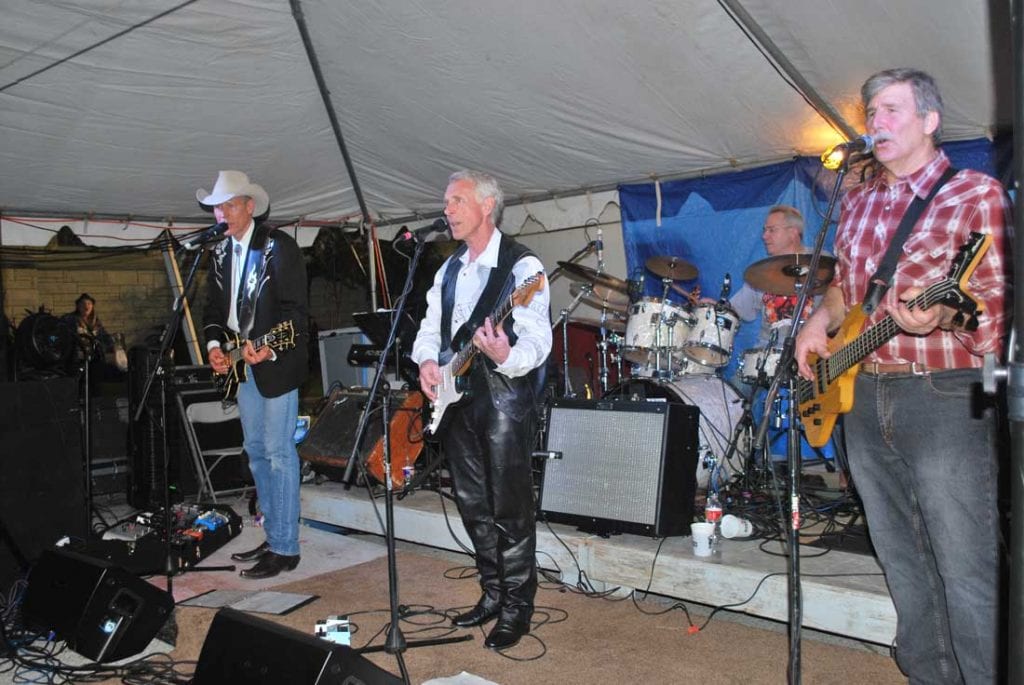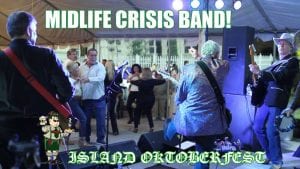 Featuring local professionals, "Mid Life Crisis" will play to a loyal local following and a growing new fan base.  For fifteen years now, this band of local doctors, attorneys and professionals has been entertaining on Galveston's Strand and at Galas and Charitable events.
A tremendous hit and crowd favorite since 2011, the band returns this year to Oktoberfest, and they will be featured on Friday night from 7:00 pm until 11:00 pm.  Midlife Crisis specializes in music from the 50's, 60's and 70's, adding new hits in current favorites.
The Tubameisters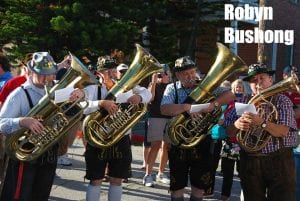 No instrument is more identified with German and Czech music than the Tuba. The TubaMeisters, a Tuba/Euphonium quartet, go far beyond the oompah tradition, by presenting a rich and varied entertainment. All the old standards are here, with other music you'll enjoy. There's also Austrian, Czech, Slovenian, Spanish, and Mexican, and even a few Country-Western and Rock tunes, as well, with vocals in five languages.
Back again by popular demand, the crowd pleasing part of their act is their strolling performances, interacting with the crowd up close and personal.  TubaMeisters will perform on the Family Stage on Friday and can be found strolling through the crowds periodically having fun with the guests.
Visit: thetubameisters.com
AlpenMusikanten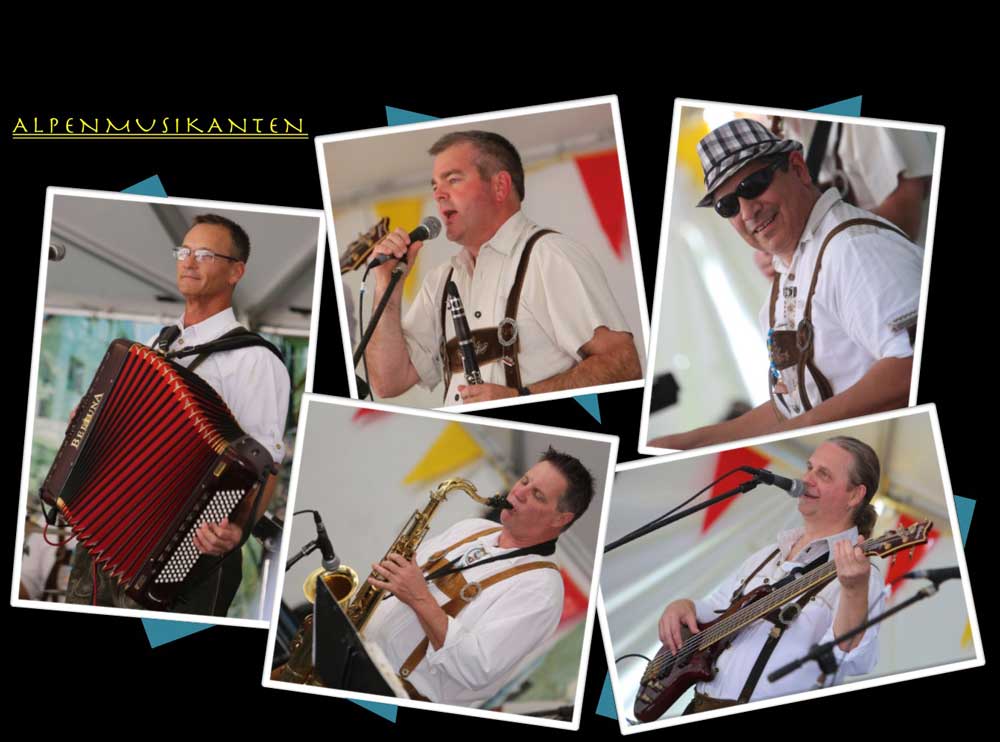 With the AlpenMusikanten, it is a definite guarantee that you will have a great time and are entertained until you drop to the floor from exhaustive dancing. With a huge variety of styles you can be sure you will find a song you can hum along to or break out one of your favorite dance moves.
Austrian Yodeling, German Dances, Cajun Washboard play-alongs, Country, Jazz, Big Band, Old Time Favorites, Rock & Roll,…..the AlpenMusikanten cover it. Don't let that funny looking band name fool ya.
The AlpenMusikanten have more than 25 years of playing experience and have been asked to perform at big festivals such as the Oktoberfest's in Addison (TX), Choctaw (OK), Helen (GA), Roberts Cove (LA), Tulsa (OK), as well as weddings, anniversaries, corporate functions and parties, etc.
Among their list of other clients are corporate companies such as Lufthansa, Wilson O I, Holtkoetter Inc, INIT Inc, to name a few.
Fanfare! Lutheran Music Academy

The Lutheran Music Academy Children's Choir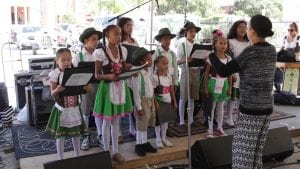 Fanfare! returns this year bigger and better than ever.  In this its sixth year, the Lutheran Music Academy has grown to over 70 students learning music and art in an after school program designed to introduce the participants to fine music theory and performance.
The Academy teaches Voice, Piano and Keyboard, Violin, Guitar, Music Theory and Art.  June Pulliam is the Executive Director, and the school is staffed by very talented professionals committed to music and education throughout the Galveston County area.  See Fanfare! on Saturday afternoon.
Visit: Fanfarelma.com
Deer Park Folk Dance Troupe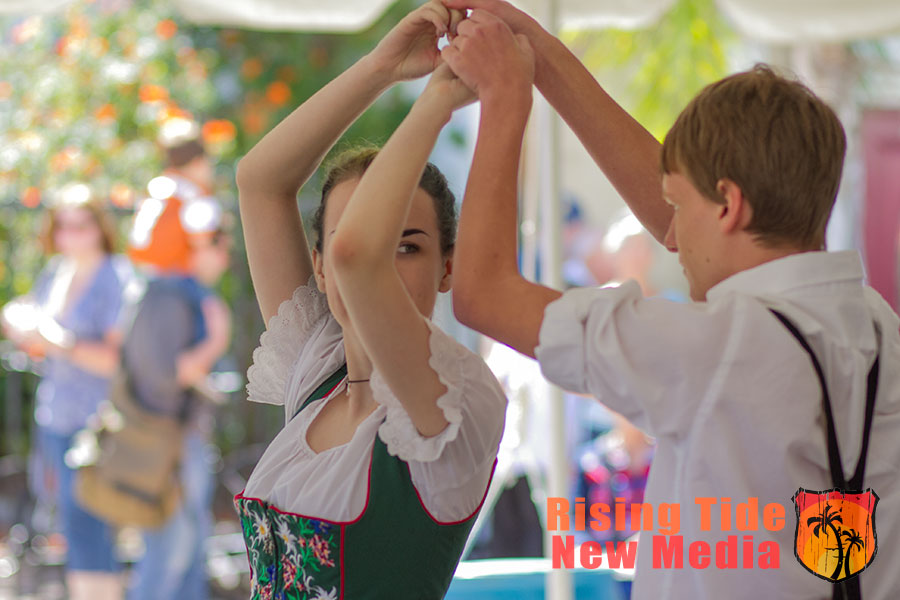 Returning this year to the Family stage is the Deer Park Folk Dance Troupe.  This respected group of young men and women study German at Deer Park High School and are in their 10th year of existence.  Their enjoyment of the German culture, the fellowship they have found with each other, and their dedication to practice has made them successful in Regional and State German competitions.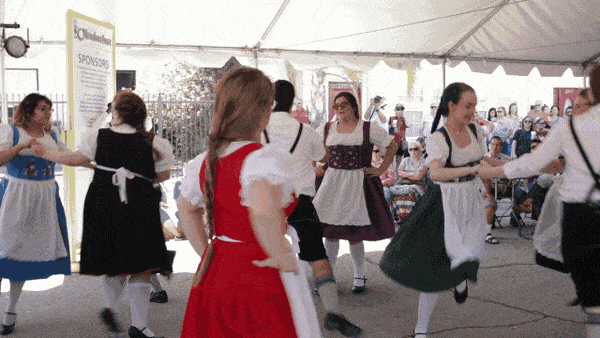 They proudly perform at the Tomball German Heritage Festival in the Spring and community events in Deer Park. The Island Oktoberfest is excited to have this great group of young people performing again on Saturday.
Keine Künst Folk Dance Troupe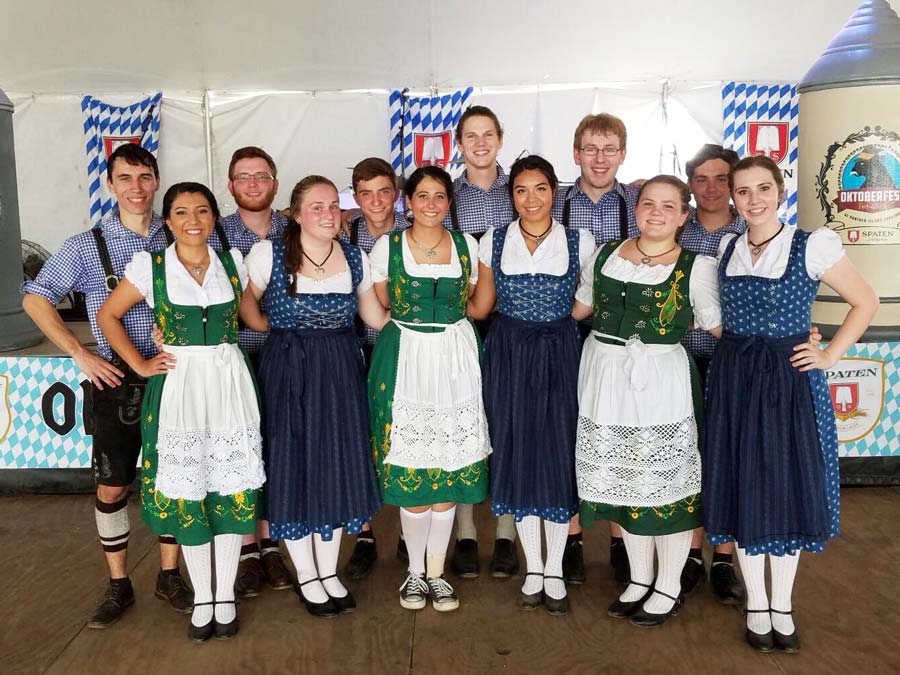 The Keine Künst Folk Dance Troupe is and will be a reminder of German history to those of the United States who do not know or have forgotten about it. The members of Keine Künst have a passion and talent for what they do, and many of them began as early as their freshman year dancing to entertain others and enjoy themselves. The group also serves as a statement to do what you love and have passion for, and to be proud of what it is that you're doing.
Keine Künst's goal is to spread the word and increase popularity of activities similar to this not only in Texas, but also in the U.S.. However, the troupe's main goal is to inspire, whether it be to folk dance or create a name for something that YOU love.
Rathkamp German Folk Dancers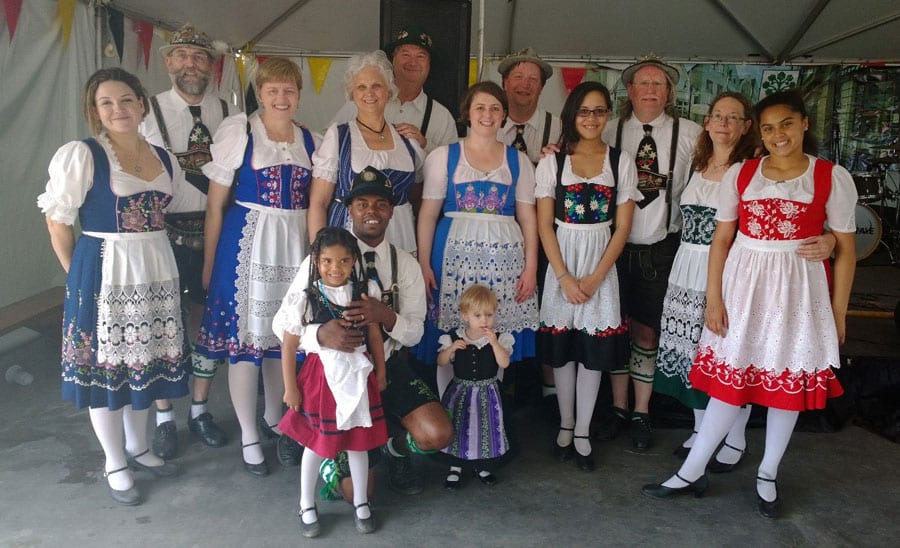 The Rathkamp German Folk Dancers (Die Rathkamp Deutsche Volkstanzgruppe) is a family-oriented group established in 1959 by Monroe and Betty Rathkamp.   The group strives to preserve and perpetuate German and Germanic folk dances, customs, and culture, and to cultivate a public appreciation of these by dancing in authentic costume accompanied by authentic music.
The repertoire includes dances from all over Germany, Austria and Switzerland: beautiful and graceful Ländlers with their many figures; Schuhplattlers (foot slapping dances) from Bavaria and Austria; guild (occupational) dances such as Mühlradl (Millwheel), which represents the grinding of grain, and Die Hammerschmiedgesell'n (blacksmith journeymen); wedding dances; and many other folk dances.
Visit: rathkampgermanfolkdancers.org